Top O' the Mournin'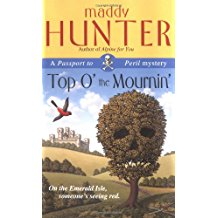 WHEN IRISH EYES ARE LYIN' ….
Emily Andrew is earning some much-needed green by navigating the twisting roads of Ireland with a group of seniors, including her beloved Nana. But once the hearty troupe from Iowa lands on Irish sod, trouble starts brewing: there's a death-defying incident with a horse-drawn carriage… and a gender-bending encounter with Emily's ex-husband Jack, now known as Jackie. No wonder Emily has come down with a smarting case of hives!
The plot thickens like Irish stew when the group settles into Ballybantry Castle, where a ghost is said to wander the halls. But it's no blarney when a very real corpse turns up in one of the guest rooms. While the murderous malarkey has Emily step-dancing as fast as she can, one sure thing emerges from the mists: not even St. Paddy himself could drive out the spiteful serpent that slithers among them!
—————
"Hilarious and delightful…. I found myself laughing out loud and and wiping away tears (of joy) as I quickly flipped the pages. I can't wait for the next trip!" —The Old Book Barn Gazette
—————
Click to Buy (Amazon)