Say No Moor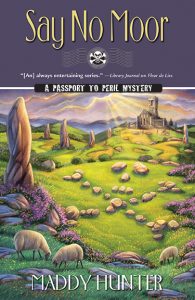 BEACHES, BOGS AND VILLAINOUS BLOGS ….
Hoping to reach an expanded clientele of senior travelers, Emily Andrew-Miceli invites a handful of bloggers to join her group's tour of England's Cornwall region. But when the quarrelsome host of an historic inn dies under suspicious circumstances, Emily worries that the bloggers' online reviews will torpedo her travel agency.
To make matters worse, Emily is roped into running the inn, and not even a team effort from her grandmother and transgender former husband can prevent impending disaster. As one guest goes missing and another turns up dead, Emily discovers that well-kept secrets can provide more than enough motive for murder.
_ _ _ _ _
"Hunter knows how to write hilarious and quirky characters with bold personalities, and there are quite a few here…. SAY NO MOOR is another wonderful cozy murder mystery in the series. — RTbookreviews.com
_ _ _ _ _
Click to Buy (Amazon)
Click to Buy (Barnes & Noble)
Click to Buy (Mystery to Me, Madison's Independent Bookstore)