Pasta Imperfect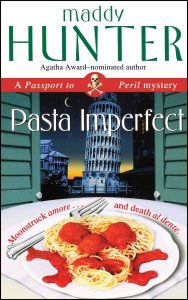 IT WAS AN OFFER SHE COULDN'T REFUSE ….
The discount travel package to Italy seemed like a great deal: Emily Andrew could lead her globe-trotting Iowans on the trip of a lifetime and bring her family to boot. Maybe she should have read the fine print…. Sharing their itinerary with a group of hyper-competitive aspiring romance writers is just a prelude to more Machiavellian drama than an Italian opera.
First, their hotel burns to the ground. Then, when Emily's lost luggage turns up found, the disgruntled literary ladies raid her clothing supply like she's a one-woman Gucci outlet. But the real killer is a contest sponsored by a publishing house — and the depths to which the dime-novel divas will plunge to win a book contract. Amid backstabbing and catcalling, bodies start turning up — in Emily's favorite outfits! Now, Emily will need more than a phrasebook to say ciao to someone with a hot and spicy passion for murder.
_ _ _ _ _
"Laugh-out-loud funny… [with] delightful characters."– Romantic Times Bookclub Magazine
_ _ _ _ _
Click to Buy (Amazon)