Hula Done It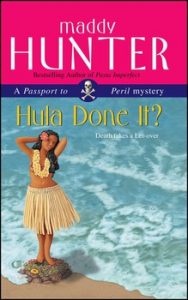 DEAD IN THE WATER ….
For travel escort Emily Andrew and her fellow Iowans, aloha means "hello" to all the sun, surf, and scrumptious cuisine their Hawaiian cruise has to offer. But for Professor Dorian Smoker, a renowned expert on the legendary Captain Cook, aloha also means "good-bye" — as in "man overboard."
Sure, it could have been an accident. But Emily wonders if some guest with a grudge might have knocked off the opinionated professor. Or maybe it had something to do with that missing journal Nana's friend lent him — the one with the mysterious treasure map. Emily figures the map is probably a fake. But when another copy turns up, she and her friends take off, rafting down rivers and plunging through jungles to find the treasure themselves. Unfortunately, Professor Smoker's killer just might have the same idea. And this tropical heat wave could quickly turn into a crime wave….
_ _ _ _ _
"The attraction of this series is the humor… that is somehow sustained over 300 hilarious pages."– Ellery Queen Mystery Magazine
_ _ _ _ _
Click to Buy (Amazon)