From Bad to Wurst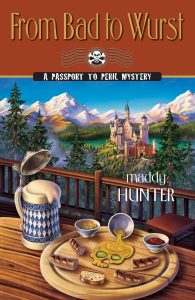 THE HILLS ARE ALIVE WITH THE SOUND OF MURDER….
It's Oktoberfest and the globetrotting Iowa seniors are sharing their Sounds of Music adventure with several oompah bands whose dream of performing in a famous German beer hall is about to be realized. But when a deadly relic from wartime Munich rains disaster on the group, their dreams are shattered — until an unlikely guest offers them new hope.
The tour hits a sour note when tragedy strikes a guest who knew the musicians' most guarded secrets. Was the death an unfortunate accident or something more sinister? As the group travels from the beer tents of Munich to the fairytale castle of Mad King Ludwig, Emily strives to restore harmony. But with the situation escalating out of control, could the gang be looking at a terrible end to their German interlude?
_ _ _ _ _
"Despite the chaos that continually surrounds Emily and her irrepressible explorers, she remains a constant beacon of intelligence, practicality, and amiability. The humor is always spot-on and will surprise readers with its deft wit, originality, and satire.
— Cynthia Chow, KingsRiverLife.com
_ _ _ _ _
Click to Buy (Amazon)
 Click to Buy (Barnes & Noble)
Click to Buy (Mystery to Me, Madison's Independent Bookstore)