Fleur de Lies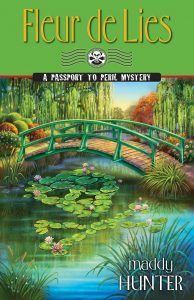 DEJA VU ALL OVER AGAIN ….
When intrepid travel agency owner Emily Andrew-Miceli takes her band of tech-savvy seniors to France, they say bonjour by cruising down the Seine River. Along for the ride are a colorful cast of cruise-goers, including four sales reps who are the creme de la creme of the cosmetics industry and a group of morticians looking for a little joie de vivre as they sort out business conflicts.
But once a guest if found dead along Normandy's famed Alabaster coast, Emily bids adieu to the hopes of a fatality-free trip. Was it a mishap? Or was murder the entree du jour? Traveling from the medieval alleyways of Rouen to Monet's famous water lily garden, Emily must untangle a web of lies that began a half-century ago, on the very eve of the D-Day invasion.
_ _ _ _ _
"Don't miss the ninth trip in this always entertaining series." — Library Journal
_ _ _ _ _
Click to Buy (Amazon)
Click to Buy (Barnes & Noble)
Click to Buy (Mystery to Me, Madison's Independent Bookstore)