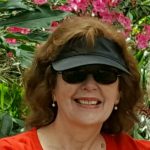 I began my writing career in the "Kathleen Woodiwiss" era, when women with good paying jobs gave up their positions to write steamy costume dramas about pirates, highwaymen, and Viking with hearts of gold. I broke into print with a story about a sea captain and his reluctant bride (THE WIND-ROSE), followed by the adventures of a Maine timberjack (THE IRISH BRIDE), an English thief-taker (THE WHITE RAVEN), and a New England lighthouse keeper, his mail-order bride, and a legendary white-faced seal (SAVAGE TIDES).
As I struggled to come up with an appropriate hero for my next novel, my publisher cancelled its romance imprint, so I spent the next several years battling writer's block, penning a really long historical drama that turned out to be unmarketable, and entertaining doubts that I'd ever be published again.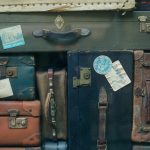 Then came my fortuitous trip to Switzerland in October, 1999 (About the series….), and everything changed. Emily Andrew leaped onto the blank page of my computer screen and took me along for the ride — Emily, named for my next door neighbor, and Andrew, which is the maiden name of another friend. Etienne (pronounced A-T-N) was named after the young Frenchman who visited my next door neighbors one summer, and Miceli is the surname of the woman who guided us through Italy the first time. (And although I love the name Etienne, I've discovered that many of my readers are unsure how to pronounce it, so I probably should have named him Fred.)
I felt I needed to provide a foil for Emily, so I created Nana, who, with her eighth grade education, is the smartest person Emily knows.
I gr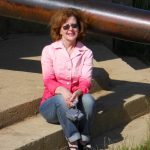 ew up in the same house with my own grandmother, so it was important for me to show that a person's life experience, coupled with good cable TV, can be every bit as  valuable as a cartload of university degrees. Like Emily's fictional grandmother, my own Nana belonged to the Legion of Mary in St. John's Parish in Bangor, Maine, made weekly visits to the hospital to visit the sick, and set up housekeeping in the funeral home when someone died, whether she knew them or not. She never had a driver's license, lived in a time when women wore girdles and bloomers, and permed her frizzy mass of blue-tinted hair in tight finger waves. (Both Emily and I inherited my grandmother's hair.) Her favorite social drink was a Tom Collins and she'd rather have played poker than breathe. When I write about Emily's Nana, it's as if I'm sipping tea again with my own grandmother.
When I speak to groups about the series, they often ask me what my writing schedule is like. For many years when I was facing a deadline, I'd work from 10-5 on weekdays with a slightly abbreviated schedule on the weekend. I need to write something every day to keep the pump primed. But for my last book, I tried forcing myself *not* to work on Sundays but was only fairly successful because my computer kept whispering, "Come on. One more sentence. Just one more sentence."
When I'm not writing, there's a large array of things I enjoy doing, with gardening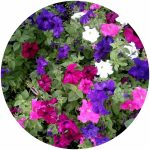 and wrapping Christmas presents topping the list. My garden isn't very big, but it's the perfect size for me to maintain, weed, and nurture throughout the summer. One of my neighbors told me last year that she appreciated the *whimsy* in my little garden, which absolutely tickled me pink. And as for gift wrapping, my goal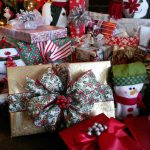 seems to be making my bows look like the flowers in my garden. I must confess to hoarding glittery wired ribbon. I can never seem to buy enough. At Christmas my husband does the baking and I do the wrapping, which works out pretty well. We each tackle what we're good at. (And it helps me to use up my stash!)
I'm a political junkie, so I gobble up political news ad nauseum, much to my husband's dismay. I love to watch football (though the studies about concussions really has me worried about player safety), enjoy any type of game that involves words, love to play poker, watch little network TV but do enjoy binge-watching British TV shows like Doc Martin, Boomers, Midsomer Murder, Raised by Wolves, and Vera.
I love reading non-fiction to learn about things I know nothing about and I always buy Bill Bryson (love his dry wit) and Erik Larson in hardback, Larson's "Devil in the White City" being one of my favorite books of all time, along with Deborah Blum's "The Poisoner's Handbook." Being a World War II buff, I devour books about all the operations that took place behind the scenes during the war, like "Operation Mincemeat," "Agent Zigzag," and "Code Girls."  "Fleur de Lies" was my homage to WWII.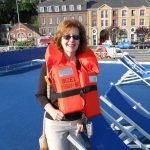 And of course I love to travel to research my books.  I've traveled with my husband, with other couples, with my girlfriends, and on organized tours, and each trip has been memorable — my trip to Scotland for being left behind at the airport by our tour director; my first trip to Australia for the intriguing experience of staying in a youth hostel; my trip to Italy for having my husband get lost twice on our first day; my trip to Ireland for realizing too late that road signs were posted parallel rather than perpendicular to the road; my trip to Holland for watching our tour director get inebriated every night. On my German trip, where we were separated into two busses that joined up intermittently, I notic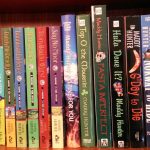 ed that a petite Asian lady on the other bus always had a difficult time maneuvering stairs. So if I was near her, I'd offer her my arm to assist her down the staircase. At breakfast on our last day in the country, the lady approached me and thanked me for my help throughout the tour. "Are you a tour director?" she asked. I chuckled and said no, but perhaps what I should have said was, "No, but in the world of cozy fiction, I play one!"